Princess donates hair to make wigs for children undergoing cancer treatment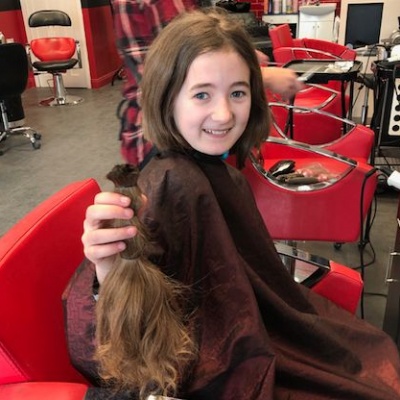 At the weekend, Year 6 student Princess had inches cut off her hair so she could donate it to the Little Princess Trust, a charity that make wigs for children suffering with hair loss through cancer treatment and other illnesses.
Princess spends a lot of her time helping others and volunteering as a Play Leader and a Junior Librarian. She came up with the idea of donating her hair by herself having researched the charity and the hairstyles that would give her a maximum amount of hair to donate. Princess then approached her parents with the proposal.
Her mum Esmé said: 'Princess often thinks of others and has been thinking of having her hair cut for a number of weeks. When the hairdresser put her hair into a ponytail ready to cut off, she didn't hesitate at all. The hairdresser tried to convince Princess to have a less drastic haircut and explained that she could still donate the hair but by choosing a longer "bob" style she would have less hair to donate. Princess wanted to donate as much as possible so decided to have a short pixie cut.'
Vice Principal Mrs Andrews said: We are incredibly proud of Princess. To do something so selflessly for others, is to be admired. She is a credit to her family and us at Compass.'