Year 5 'Space and Forces' topic is launched at KSA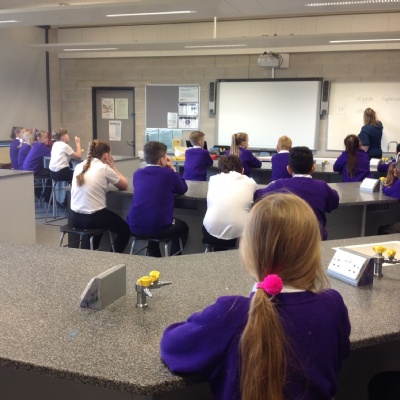 Year 5 students visited Kettering Science Academy this week to take part in library activities and rocket demonstrations, giving them an interactive introduction to their new topic for this term, 'Space and Forces'.
In the science department, students discussed some of gases they knew and talked about which ones might be useful for rocket fuel. Mrs Oliver and Mr Stock then showed the children a variety of exciting demonstration. These included the gas tests for hydrogen, which makes a squeaky pop and the gas tests for oxygen, which made the flame relight every time the students blew it out, Elephant's Toothpaste which is used to show the difference adding extra oxygen in hydrogen peroxide makes to a reaction, igniting methane bubbles to show how much energy is stored in the gas and finally a controlled launch of a methane rocket.
In the library, the students took part in an Astronaut Training Programme led by Ms Economou. The budding young astronauts had to work together in teams to complete five space missions. These included activities such as making an alien bookmark, working out their space age and taking part in space sit down bingo. The activities were based on mathematical and scientific research and design and focused on developing students skills in a variety of areas including research, creativity and listening. At the end of the session Ms Economou announced that all the young astronauts had passed the training with flying colours.
KSA science teacher Louise Oliver said: 'It was a pleasure to welcome Year 5 to our Academy this week and show them a range of live demonstrations linked to their exciting new topic. The students loved the day and there were lots of 'Oohs,' 'Aahs,' and 'Wows!', which was exactly the effect we wanted to achieve to inspire them and get them to engage with their new topic.
'The students were extremely knowledgable and made an excellent impression. They were able to answer my questions about different gases and some of the questions they asked about rockets and fuels were really well thought out.'
Year 5 teacher Miss Wright said: 'The children all really enjoyed the group activities and have gained so much from the day. They are still talking about their visit now and what they have learnt.'