Little Explorers Police visit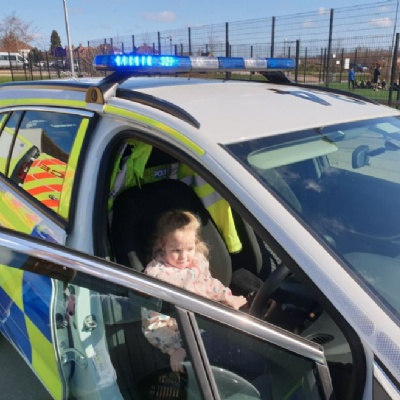 Little Explorers pre-school children recently received a visit from the police, including Ava's Aunty Nicky who is a police officer. The visit was part of learning about growing up and finding out what they would like to be when they grow up.
The police spoke to the children about what they do as part of their job. The children learnt about the police uniform, what items a police officer carries with them and why. Mrs Blades was 'arrested' for stealing sweeties but was fortunate to be let go for good behaviour.
All the children were then lucky enough to have the chance to dress up in the uniform and look inside a police car.
To end the visit the children watched the police lights and heard the siren.
Pre-School Teacher Miss Grey said: The children particularity enjoyed sitting in the police car and getting to turn on the siren. Back at Little Explorers we have been busy pretending to be police officers and 'arresting' each other.'
Click here to view more photos from the event.