Celebrating our students' success at BWT Sports Awards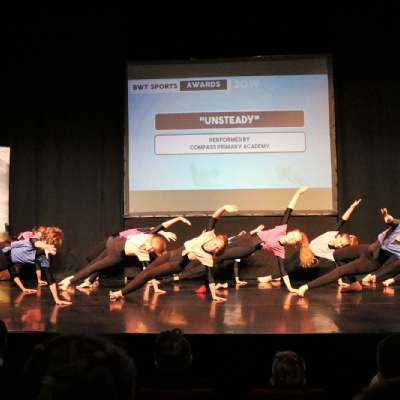 Well done to our students who were awarded the following accolades at the Trust Sports Awards 2019 as well as our dancers who put on a stunning performance.
Regan Hartnett- White was named Compass's Sports Performer of the Year: and was described as 'an exceptional athlete who has represented the school at netball, football, cricket and athletics.'
Paige Brennan won the Individual Achievement Award. Trust Director of Sport said: 'Paige has grown in confidence this year and her sporting ability has flourished with her now regularly attending netball, dance and cricket clubs.'
The Girls Active Leaders won the Outstanding Contribution to Leadership category. The audience were told: 'Iona, Hannah and Martina regularly go above and beyond to ensure girls attend the Girls Active club. They have also become excellent leaders and role models for the school.'
Callum Darbon was Compass's Sporting Volunteer of the Year. He is sports captain and often helps coach younger people when at a club. He was described as 'a key team player in many sports and will also support his team-mates, no matter what the outcome.'
Trust Primary schools were also praised for taking part in additional fitness activities.
Miss Smith said: 'This year within the Trust we have focused on boosting physical activity within our schools with the introduction of a daily physical activity task such as the Daily Mile and Go Noodle. The Daily Mile makes children fitter, healthier, happier and has a positive impact on their behaviour and concentration levels. It is simple but effective, enabling every child, including those with special needs, to be active every day. Go Noodle is a video tool which encourages pupils to move with purpose to a variety of videos across the curriculum. It is so good to see that these children are learning good habits.'
Well done to our Dance Team who were nominated for the Primary Team of the Year Award. They put on a stunning performance and are the only primary school to have ever danced at the BWT Sports Awards ceremony.
Finally huge congratulations to our amazing rugby players whose performance and sportsmanship ensure we were named as winners of the BWT Primary Rugby Competition 2019.
To read the full list of prizewinners click here.
To see a gallery of photographs from the event click here.