Compass teams win two prizes at Believe Big!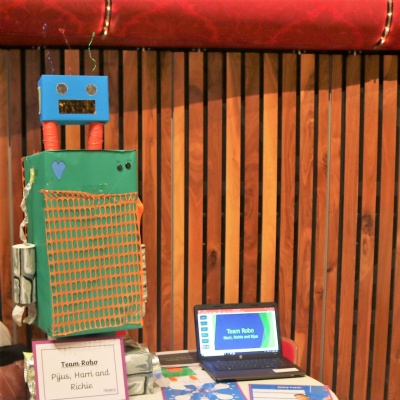 Well done to Bounce Power and Team Robo from Compass Primary who won prizes for best poster and best model in this year's Trust Primary Believe Big competition.
Three teams from our school took part in the competition, where they battled it out to see which of the 15 Trust teams had the most innovative idea.
Many of the teams came up with philanthropic ideas to help the homeless, the vulnerable or the environment. Here's what our teams invented:
Team Bounce comprised Charlotte, Baylee and Harley. They developed springy clothing that will keep you safe if you fall over. Charlotte said: 'If you are pushed or fall over you can bounce back up and carry on with your day.' Baylee said: 'The best thing about this project is that it will help you if you are clumsy. It is meant for the elderly because they lose their balance and fall over a lot.'
Harri and Richie were two members of Team Robo, who developed a personal protection robot. Harri said: 'It has stretchable arms and rocket boosters. The best thing about this project was all of it!' Richie said: 'I liked putting the antennae on the robot's head!'
Team Cloud consisted of Amber, Ruby and Sybil. They invented an anti-pollution machine, shaped like a ladybird, with a filter to produce clean air. Sybil said: 'We thought it would help the environment because there is a lot of pollution around so we wanted to make cleaner air.' Ruby said: 'My favourite part was making the ladybird model.' Amber said: 'I liked working together as a team.'
David James, Lead Facilitator from 7 Billion Ideas led the finals: He said: 'The children have got so much out of it already. These are children who are creating ideas, seeing those ideas recognised. What we hope now is that they take their ideas and thought processes back into the schools and encourage other children to do it as well. I am hoping to see a lot of these children in the secondary competition in four or five years. What is important is that it is a whole school process. Everyone in that school has developed ideas for the Believe Big project.'
The judges comprised Leyton Smith, BWT's Primary Executive Principal, Corby Business Academy's Principal Simon Underwood, Angela Reynolds, Principal of Corby Technical School and Debbie Tysoe, the Trust Finance Director.
Announcing the winners Mr Smith told the students: 'I think every one of you who has contributed to today has done amazingly well. That medal that you are wearing around your necks says that you have put in a huge effort. I honestly don't know where you get your ideas from. They are unbelievable. The creativity that you show, the posters you have designed and the way you have presented yourselves today has been really impressive. The judges found it incredibly difficult to decide on the results.'
To see a gallery of pictures from the event, click here.