Compass equips students with PE skills for life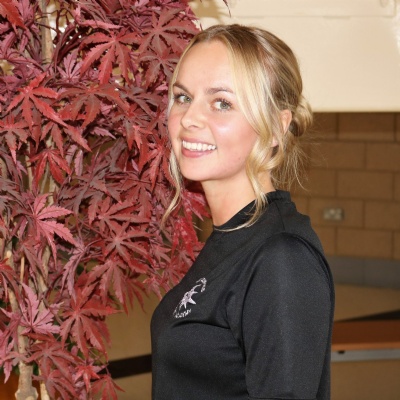 PE specialist Hannah Layram has high aspirations for developing the subject at Compass Primary and is pleased with the progress made by students, whom she wants to equip with a life-long love of sport.
Hannah, who has been in the profession for five years, initially trained as a secondary teacher: 'Although I love teaching GCSE PE you can have a huge impact in the primary years. I would like my Year 6s going to secondary school ready to play sports and games because I know what it is like if your Year 7 students don't know the basics.'
She has also written the PE curriculum, does assessment and supports non-specialist colleagues in delivering two hours of PE lessons per week: 'The drive is to get all students learning fundamental skills and equipping teachers, who are not PE specialists, with the knowledge and confidence to deliver really good lessons. Two hours of PE teaching per week is significant in terms of what can be achieved.
'Nursery children will start learning how to run, skip and jump. Year 2 do 'Hit and Kick' which is about chasing a ball and rolling a football and that means we introduce football and netball in Year 3 and beyond.
'With Years 5 and 6 it is about making students a lot more independent, so we are starting Sports Ed where they basically lead each of their lessons and have different roles like manager, equipment manager, coach and scorer. The focus with PE is on both mental and physical health because they are interconnected.'
Hannah and her colleagues also run a variety of successful after-school clubs which have been very successful over the past year. 'We entered 22 competitions and this year we are entering a similar number. We have had success in dance, taking part in Northamptonshire's Strictly and coming second in a Pacesetter dance competition with a contemporary number. We also won the Trust tag rugby competition and so we are making progress in all areas and have plans to improve and expand. Another big focus at the moment is swimming and also making sure that all of KS1 into KS2 students can ride a bike or scooter.
'I really enjoy it here as Compass is a welcoming school and everyone gets on really well and pulls together. Also it is advantageous being part of the Brooke Weston Trust as I teach for one day a week in a secondary and also get to link up with PE Leads from the primary schools so we can organise friendly competition.
'I found that students come up to secondary school either hating or loving sport, there was no middle ground, so at primary school you are the teacher who can embed that love of PE from an early age. The key is that children have fun in their lessons, are engaged all the way through and are trying different things. They need and love to be active, especially the younger ones.'