Well done to Jane on her 30 years' service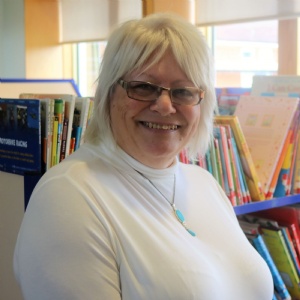 Thank you and congratulations to Jane Hughes who has worked for 30 years at Compass Primary Academy. She joined us on 1 October 1990. Her role has developed massively over the decades and she says that her colleagues are like a second family:
'I joined when it was Henry Gotch, then it became Kettering Science Academy and now is Compass Primary School. I started as a dinner lady and was doing a lot of voluntary work in the classrooms. I started by supporting a child who had significant behavioural problems and couldn't stay in the classroom and my role grew from there. I specialised in literacy and numeracy, then I did my HLTA and I have been running the Friends group which is our PTA.
'The job has developed a huge amount over the years. Now I am bubbled with Years 5 and 6, I am also in the library and do PPA cover and intervention work.
'I have worked with 2,400 children over the 30 years and now my grandchildren attend the school. For me the best part of working here is the children, doing your best for them, setting them up for the rest of their lives.
'It is always like a family atmosphere here so our colleagues are very supportive and close-knit. It doesn't seem like 30 years since I started. I have loved every single minute of my career. Through everything, the good times and bad, we always have that family feeling and just help each other. It has never been dull or boring. There is always something that makes it different and that is what keeps you going.
'To celebrate Jo did a socially distanced speech to all the children in the playground. I was given flowers and the children all made pictures of themselves which was made into a book. I wasn't expecting it so it was really nice.'
Compass Principal Jo Fallowell said: 'Jane is always going above and beyond in her role; from supporting with the development of the library, to leading the Compass Friends, which generates fundraising for the school. Her creativity and philosophical approach have allowed our children to become reflective thinkers, especially within the world we live in. Whenever you ask staff at Compass what they think of Jane, they would always say how quick-witted she is and her full commitment to amazing fancy dress costumes. Her laugh is infectious and her warmth is nurturing. We thank Jane for her dedication and commitment over the last 30 years.'