Compass students experience virtual reality technology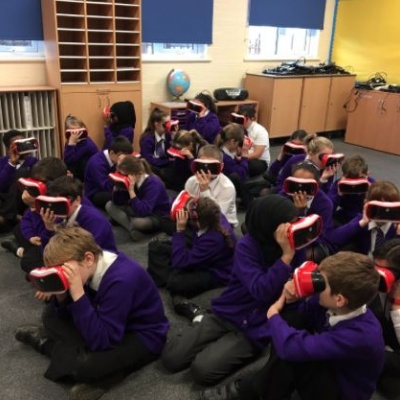 Today Key Stage 2 students took part in an interactive anti-bullying VR workshop.
Education Group led the session using Edg VR headsets to transport students to another world through videos; games and CGI content. The anti-bullying workshop 'Mutual Respect' allowed each student to be put in a bullying scenario and interrogate the characters through VR film.
Year 3 students also had the opportunity to take part in an interactive Aboriginal Australia workshop to learn more about the topic, which they are currently studying as part of the curriculum. The students hunted with a boomerang, ate grubs to survive and danced with authentic tribesmen.
The Edg VR, is a world first in education technology that uses a bespoke software platform and unique content. Edg VR networks 35 devices allowing every child to experience the virtual scenario using their own headset.