Chris completes his first marathon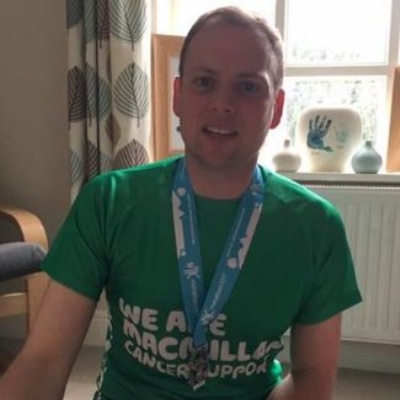 Vice Principal, Mr Chris Woolhouse was one of 10,000 runners that took part in the Milton Keynes Marathon.
He completed his first marathon in 4 hours 30 minutes and raised over £500 for Macmillian Cancer Support.
Chris said 'I have always wanted to complete a marathon; as a runner it has always been the 'ultimate' target and I have always been amazed by anyone who has completed the distance. For many years I have entered the ballot for the London Marathon thinking that if I was only ever going to do one marathon that would be it but as the London Marathon becomes more and more popular it is harder to get a place. As I realised that I might never get a place in the London Marathon I decided to sign up to the Milton Keynes marathon and to start training.
'I chose to raise money for Macmillan Cancer Support because I have known a number of people (family, friends, colleagues) who have been affected by cancer in one way or another in recent years. The charity do fantastic work to support patients and their families.'
Chris started training for the Marathon back in November 2016. He said 'On the whole training went well, I picked up a calf injury in February which required some rest and physiotherapy but I was soon up and running again and through the beautiful Northamptonshire countryside covering distances up to 30km at a time.
'The marathon itself was incredible, the atmosphere and support was fantastic. I have completed a number of organised runs over a variety of distances and it never ceases to amaze me how many people stand beside the roads and cheer the runners on. Being my first marathon, I hadn't really set myself a goal in terms of time so I ran at a steady pace through out. I felt quite comfortable for the first 20 miles but my legs got very 'heavy' and didn't want to work at around mile 22 - a little bit of walking, some energy gel and a handful of Jelly Babies got me back up and running and I even finished with a sprint as I entered Stadium MK at the finish. My feet were bruised and my legs were quite stiff and sore for the next couple of days but not as bad as I had prepared myself for.
'I want to thank everyone at Compass Primary Academy for their support; my colleagues have been very generous with their sponsorship and the children and families have also donated.'
Chris is now planning to enter the Rutland Marathon in September and hopes that one day he will participate in the London Marathon.