Brooke Weston Trust Sports Awards 2017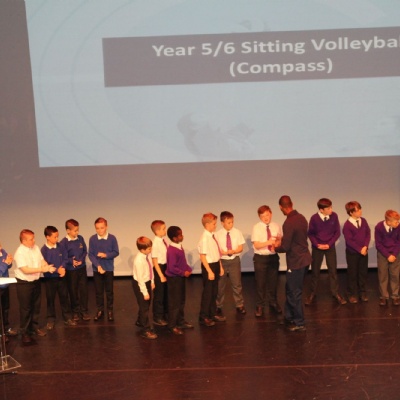 CPA won two awards at this year's Brooke Weston Trust Sports Awards.
Hundreds of students, parents and teachers from across the ten BWT schools attended the ceremony, held at the Corby Cube, in which students from Key Stage 2 – 4 were recognised for their achievements. CPA won the Year 5 and 6 Sports Festival Award and the Year 5 and 6 sitting volleyball team won the Key Stage 2 BWT Team of the Year Award.
The volley ball team won the award for being the School Games level 2 champions after never playing the sport before and going on to represent Kettering in the level 3 competition finishing in third place.
The special guests handed out over 20 awards to students. All nominees were invited onto the stage whilst the audience were told about their sporting achievements. Each of the nominees received a certificate for their hard work and success.
Brooke Weston Trust's Director of Sport, Kirstie Smith, organised and hosted the event. She said 'This is a very special evening to celebrate the sporting achievements of our pupils from across our trust family of schools. I am immensely proud of this award evening, which is now in its second year and features even more award categories to reflect and recognise the sporting achievements and ambitions of our aspiring and elite athletes.
'I firmly believe that outstanding Physical Education has a direct impact on whole school improvement through raising aspiration, and ultimately achievement, for our young people. Unlike any other subject in the curriculum, Physical Education has a unique role in promoting core life values; this is essential to develop our young people's physical literacy, educating them on leading a healthy, active, lifestyle.'
During the evening Thomas Clarkson Academy's dance students performed two routines and the BWT Sports Ambassadors assisted with duties, helping students and parents to find their seats and provided support to the awards organisation team. Thank you to all those involved who made the evening a great success.