Parents into School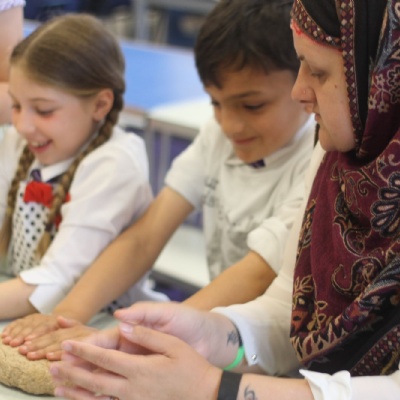 During the weeks commencing 15/5/17 and 22/5/17 we held Parents into School Weeks. Each year group invited parents to spend a morning in class with their child enabling them to gain greater understanding of how their child learns in the classroom.
In Year 1 the children showed off their vocabulary skills as they wrote descriptive sentences about shells to fit in with their topic 'Hooray...let's go on holiday'. The children then went on to design their own shells and make them out of clay.
Year 2 carried out a practical maths investigation to consolidate their measuring skills - the children investigated whether it is true to say that taller people always have a longer stride.
The Year 3 classes wrote a balanced argument about whether animals should be kept in zoos. Firstly, the children put their opinions across verbally before using a range of conjunctions to help them construct their written arguments.
Year 4 also carried out some practical maths to fit in with their topic by making bread; children had to carefully follow instructions and measure ingredients accurately to ensure that their dough was made correctly.
In Year 5 the children investigated 2D shapes by drawing them on isometric paper (some children challenged themselves to draw and then research shapes with more than 10 sides).
Finally, in Year 6 the children began a mini project linked to their topic, 'Fit for life', which will see them design, make and package a new healthy cereal bar. During this session the children sampled a range of cereal bars which are already on the market to help them decide on the flavours and textures they would like to incorporate into their own bars. The children also looked carefully at the packaging considering what made it eye catching and attractive and what information they would need to put on their packaging.
Vice Principal Mr Chris Woolhouse said 'As always, the uptake was excellent with a huge number attending and participating in the sessions. Thank you to the parents, grandparents and carers who spent time in class, the children love showing you how they learn and sharing their work with you.'