Ambition for All at Compass Primary Academy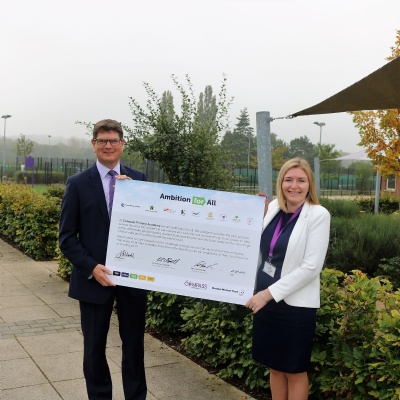 Our Ambition for All campaign has been launched at Compass Primary Academy when Principal Jo Fallowell told students that school will be the Trust's 'torchbearer' for the next month.
A whole series of activities and events are running including a week-long '£10 Challenge' when every class will have to work creatively to come up with a money-making scheme using the sum as an initial investment.
Trust CEO Dr Andrew Campbell spoke to students about the Ambition for All pledge that he signed with Mrs Fallowell and Phil Harris Bridge, the school's Chair of Governors, that outlines the campaign, which will be running across our schools this year.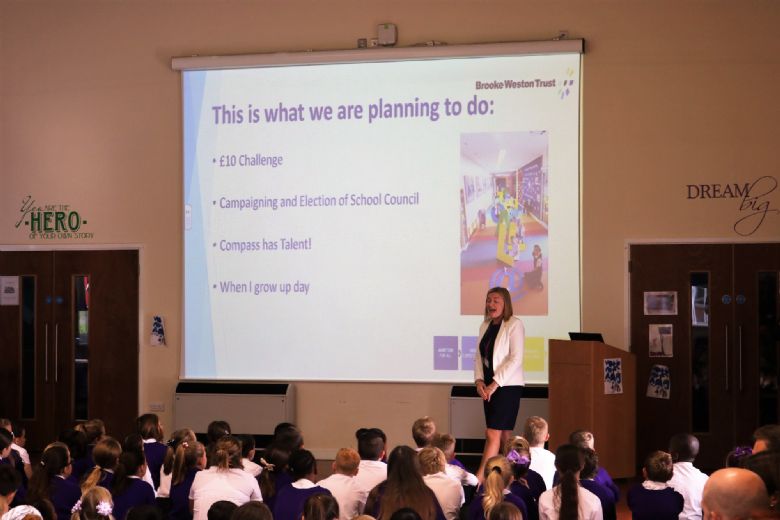 Mrs Fallowell said: 'We are really excited about taking over 'Ambition for All' from Gretton Primary School. We have many activities planned, not just over the month, but throughout the entire year when we will challenge ourselves to be our best.
'Over the next few weeks we are looking for the class who can turn £10 into the most profit they can, whether that is through making and selling something or offering a service, such as car washing. We are also very busy campaigning for the School Council so students can vote for their year group representatives who will have a real input into life at Compass. If they have any great ideas for Ambition for All then they just need to bring them forward and we will consider every suggestion. The students are also looking forward to 'When I grow up day' which will highlight future career choices and help them learn about different jobs and pathways.
'We are planning to have an amazing talent show later in the year and we are also launching the concept of our five cartoon people that illustrate our school values of Resilience, Responsibility, Respect, Co-operation and Aspiration. Ambition for All is going to be a massive part of Compass Primary Academy, not only in the next few weeks, but throughout the entire year.'

The Ambition for All campaign is a single focus on improving academic outcomes and opportunities for character development that will run in all our Trust schools throughout this academic year. It applies to all areas of the Trust's schools' operations to ensure students receive the highest quality teaching and wider development opportunities within a supportive and encouraging environment, where adults live and breathe ambition for student success in all its forms. Implicit within this approach is a focus on the progress of disadvantaged students and of high ability students, whatever their background. As part of the Ambition for All campaign the CEO, Principal and Chair of Governors at each school will sign a pledge to be displayed prominently.