School Elections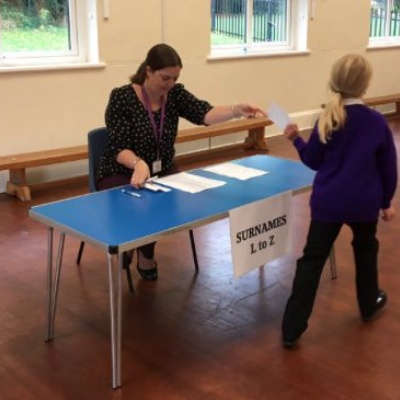 The school council for this year has just been announced after a full on week of campaigns and pledges.
In assembly, at the start of last week, the students were told about the student council and how they could apply. They were introduced to the types of characteristics a school councillor would need as well as which school values they would need to represent.
Within each class, all students produced posters of themselves explaining why people should vote for them. The candidates were then whittled down to just three children from each class who took part in the campaign week.
Principal Mrs Jo Fallowell said 'It was a brilliant week. There were posters and stickers everywhere. The students got full involved and so did the parents.'
At the end of the week, the school hall was transformed into a voting station, with tables made into a registering desk where students collected their polling cards. Booths were set up so students could fill their forms in and there was even a ballot box for students to put their votes in.
Mrs Fallowell said 'We made it like an election polling station, modelling it on how the grown-ups vote. This gave students the experience of democracy and showed them how the ability to vote can influence their futures; all within a school context.
'As torchbearers of the Ambition For All campaign this month, the event tied in perfectly. All the students took it really seriously. There were some lovely campaigns and they all supported one another. The new school council team was then announced in assembly this week.'
The new school council is made up of the following students:
1GE – Jaiden

1RH – Navayeh

2CW – Zac

2LR – Lillie

3MK – Sophia

3MW – Violet

4JP – Harley

4JB – Olivia

5SF – Ethan

5AJ – Mikail Khuramkhil

6JW – Lily – Chair of School Council

6MF – Jenna – Secretary
The students key duties, as school councillors, will be to support the leadership team and pupils' standards team to look for areas of improvement within the school and how best their voice can support teacher in making the right decision for them.
Well done to all the students that took part.