£10 Challenge - Art Gallery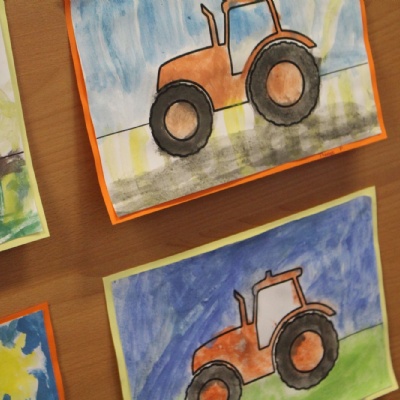 Class 1RH held an art gallery to show off their talent and help raise money.
The students decided to organise the event as part of the challenge set to all classes to see how much profit they could make from £10.
The students helped come up with the idea, made the artwork and set-up the gallery.
Parents were then invited into school today to browse around the gallery and purchase their child's masterpieces. There was even a café so that parents could purchase a cake and a drink. All the money raised will go towards the £10 challenge in which we will announce a grand total of after all the events have taken place.
1RH teacher Mr Richard Hollwey said 'The children have been learning about jobs as part of the Ambition for All Campaign. They have looked at farming more recently, which also tied in with Harvest Festival where the children performed a play of the The Little Red Hen. On the basis of this we decided to make our artwork tie in with these themes and so the students created scarecrow faces and painted tractors.
'The event allowed families to come in and see what the children have been learning about whilst raising money towards the challenge.'
To view more photo of the event click here.
The £10 challenge is part of the wider Ambition For All Campaign which is a single focus on improving academic outcomes and opportunities for character development that will run in all our Trust schools throughout this academic year. It applies to all areas of the Trust's schools' operations to ensure students receive the highest quality teaching and wider development opportunities within a supportive and encouraging environment, where adults live and breathe ambition for student success in all its forms.