Team GB and Commonwealth High Jumper visits our Academy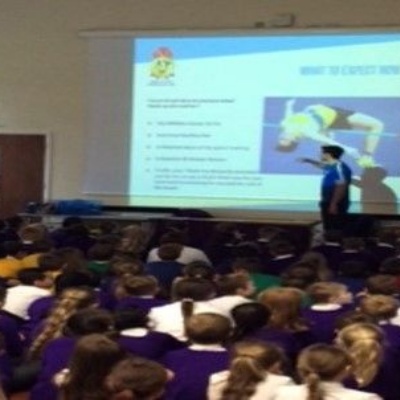 Athlete David Smith, who will take part in the Commonwealth Games in Australia shortly, visited our Academy today to lead fitness circuits with the whole school.
Each class took it in turns to complete the workout consisting of a variety of testing excersises, which the children have been collecting sponsorship money for.
David then spoke to the whole school in an assembly, where he discussed his successes, healthy eating and how he trains. He also gave out rewards such as photos and posters to the children who raised the most money.
Half the money raised will be used to help support athletes and the other half will be used to fund a new school bike shelter to encourage more pupils to ride to school.
Primary PE Specialist Mr Gavin Hall said 'It was a very inspirational visit for the children. They had lots of fun and learnt the importance of a healthy lifestyle.'
The event was part of the 'sports for champions' initiative. This is to help raise money for upcoming athletes, to help support them whilst they are in full time training.