High quality outside provision at Little Explorers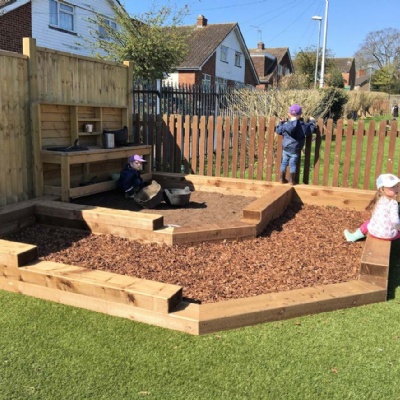 The outside play area around Little Explorers preschool at Compass Primary School has been completed with the construction of raised beds, wooden structures, water play and a sand pit. The space has been specifically designed so that students can use it imaginatively in lots of different contexts.
Compass Primary's Principal Jo Fallowell said: 'We wanted structures that could be used to stimulate play in different ways, so that the wooden structure isn't just a house, or a forest, but could be used imaginatively by the children to represent any environment or concept. The scheme has also incorporated a variety of textures to help the students with their development, so we have included water and sand play, a mud kitchen and a bike track.
'The construction was completed by Select Homes and we collaborated closely to ensure we have a good variety of play areas for the children within the allocated budget. As the pre-school is clad in wood and has lots of natural wooden furniture inside it was important that we kept the natural wood theme throughout the outside space.
'The students were so excited and couldn't wait to get outside and play. It is a really practical and welcome addition to the preschool, providing the children with a safe outside space so they get fresh air, exercise and plenty of scope for imaginative play and learning, both on their own and collaboratively. The space really complements the high quality provision that Little Explorers provides and ensures that the high quality and child initiated learning inside is now continued outdoors under the supervision of our talented and committed pre-school staff.'