Compass win first place in Trust Believe Big competition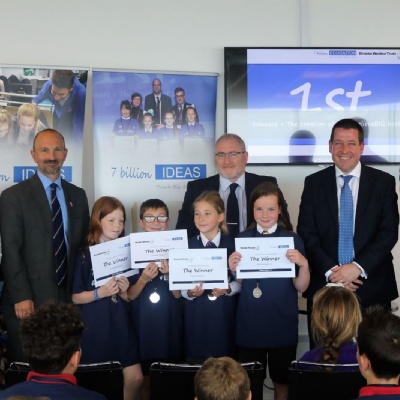 Compass joined primary schools across the Trust for a competition, which required students to design a creative product that was innovative or life-changing.
It was the first time that the Believe Big competition, run by 7 Billion Ideas, has taken place, involving Year 4 students from across our Trust primaries. They worked in teams to dream up ideas and develop promotional materials including posters, slogans, models and stories.
Each school held primary heats before winning teams from each took part in the grand final which was held at Rockingham Speedway and judged by a panel of judges including senior Trust leaders, John Henrys, Anne Hill and Leyton Smith plus Pete Kirkbride, Principal of Brooke Weston Academy and Tony Segalini, Kettering Science Academy's Associate Principal.
Congratulations to our students Jackson, Ryan, Olivia and Nell from Team Nothing who won first place with their invention 'Mattsie', a onesie with an inbuilt mattress. Well done also to our other teams Sum Shine – who designed a solar powered phone and Amy, Charlie and Leigha who developed a chore robot to do the cleaning.
Everyone who took part received a finalist medal and certificate and all the teams sported Believe Big T-shirts featuring the names of all the schools in the Trust.
David Harkin of 7 Billion Ideas said: 'We challenged all the students to Think Big and Believe Big and there are 14 teams here today. The winning idea from today is going to be turned into a children's book so the idea will have a legacy. We are going to be working with the team to create a storyline about their idea and the book will go to our illustration artist and it will go live into Amazon later this year so anyone around the world will be able to purchase the book online. We have now worked with 60,000 students from across the world and are growing each year. This year we have worked with 350 schools in the UK and expanded into Europe and the Middle East.'
Mr John Henrys, Brooke Weston Trust's Head of Analytics, System Performance and Innovation said: 'I genuinely didn't think it was possible to have so much creativity in one room and all of the judges will agree that what we have seen is nothing short of awesome. Every single idea was superb, they have been so innovative and creative.'