Family Information Event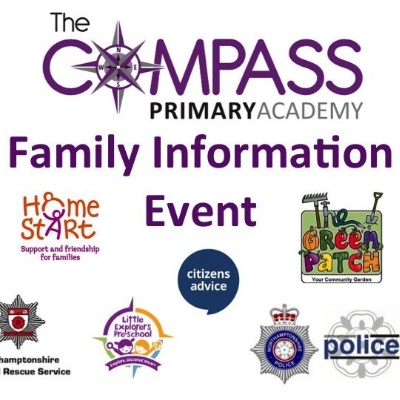 Compass recently held a family information event to bring the local community together and allow families access to vital and practical support.
A variety of local organisations and charities were on hand including Home Start and the Citizens Advice Bureau, who offered impartial advice whilst Ground Works – Green Patch informed families about their community garden project in Kettering. Children particularly enjoyed having the opportunity to look around some of the vehicles the Northants Fire and Police service brought along.
The school organised a variety of stalls offering second hand uniform and pre-loved items. A variety of staff including the School Nurse, PE Specialist, SENCo Team, School Librarian, on-site Pre-School, and Friends of Compass Primary Academy were also available to discuss their roles and gave advice on living a healthy lifestyle, mental health, reading and much more.
Education Welfare Officer Miss Dunn said: 'We decided to organise this event to give our families access to the support that is available to them in the local community. The informal event allowed parents and carers to ask any questions they may have and gain a better understand of the variety of services on offer to them for as and when they might need them.
'The day was a great success and we are hoping to run a similar event next year.'