Design & Technology
"Design for the present with an awareness of the past for a future that is essentially unknown."
~Sir Norman Foster
We believe a high-quality design and technology education makes an essential contribution to the creativity, culture, wealth and well-being of the nation. To ensure this, we have designed and implemented a curriculum in collaboration with the National Curriculum and the Design &Technology Association.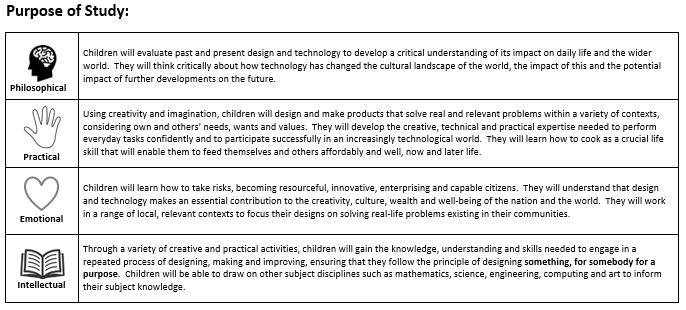 Aims:
Our curriculum ensures all pupils:
develop the creative, technical and practical expertise needed to perform everyday tasks confidently and to participate successfully in an increasingly technological world.
build and apply a repertoire of knowledge, understanding and skills in order to design and make high-quality prototypes and products for a wide range of users.
critique, evaluate and test their ideas and products and the work of others.
understand and apply the principles of nutrition and learn how to cook.
Implementation:
Our curriculum sequence involves two important elements - learning about the designed and made world and how things work, and learning to design and make functional products for particular purposes and users. To do this, we plan a sequence from the D&T Association's Projects on a Page.
Our sequences allow children to acquire and apply knowledge and understanding of materials and components, mechanisms and control systems, structures, existing products, quality and health and safety.
Our curriculum helps develop children's skills through collaborative working and problem-solving, and knowledge in design, materials, structures, mechanisms and electrical control. They are encouraged to be creative and innovative, and are actively encouraged to think about important issues such as sustainability and enterprise.
There are three core activities children engage with in Design and Technology:
Activities which involve investigating and evaluating existing products
Focused tasks in which children develop particular aspects of knowledge and skills
Designing and making activities in which children design and make 'something' for 'somebody' for 'some purpose'
These three activities are combined in sequence to create a Design and Technology project within our long term plan: