Home Learning
Dear parents and carers,
First of all, we would like to thank you for all of the positive feedback we have received from yourselves. We are very grateful for your feedback and continued support during this difficult situation.
We would also like to take this opportunity to ease some of the worry that we are aware is out there regarding home learning - in our own school community as well as across the country as a whole. There is no expectation on you, as parents, to try and replicate the work of teachers in school. The Department for Education stresses this in their advice to parents about supporting children's learning at home (see our Home Learning page for the guidance) and we whole heartedly support this.
You have an extremely challenging job at the moment. Having your children at home - keeping them safe, happy and well - alongside looking after yourself and often extended family members too. The vast majority of you are also having to work too.
All of our home learning offer will be accessible through Seesaw. All work set will directly link to the learning that your child would have received if they were in school. We recognise that this will differ for every family, and understand that the children will not (and should not) be carrying out a full day of learning as they would be at school. As outlined in our Remote Learning Policy, it is expected that children complete 4 hours of learning a day. Please do the best that you can in your own personal circumstances.
Please click on the Remote Learning Offer for All to find direct links to Seesaw, Mathletics, Accelerated Reader and Read Write Inc.
With regards to those children with SEND, we will be supporting children individually, depending on their individual needs. All work will be accessible via Seesaw. If you need to speak to your child's class teacher, please email them directly on:
reception@compassprimary.org
year1@compassprimary.org
year2@compassprimary.org
year3@compassprimary.org
year4@compassprimary.org
year5@compassprimary.org
year6@compassprimary.org
As before, we will be in regular contact to say hello, check you're okay and support with any ongoing educational/pastoral/wellbeing support. If you need anything, please refer to our Compass Help Poster below: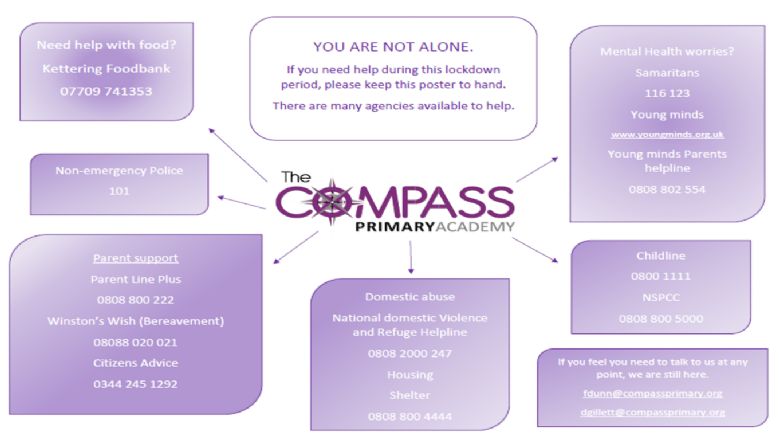 Thank you everyone for your continued support. If you need any further support at home, please email office@compassprimary.org and we will get back to you at the nearest convenience. Stay safe everyone. We are missing you all already.